Meetings
Our meetings are held every third Thursday of each month and start promptly at seven p.m. They are held at St. Andrews Lutheran Church located are held every third Thursday of each month and start promptly at seven p.m. They are held at St. Andrews Lutheran Church located at 500 Main Street in Boswell. The Heritage Center is open from 1 pm to 4 pm on Saturday and Sunday, and also by appointment.
The meeting schedule has not been published to date. In January, there was an election of officers, and all incumbents were returned to office.
BAHS Newsletter for April, May and June 2012
The new newsletter, Volume 22, Issue 2 has been published and should be in your mailboxes. This issue features an article on the Boswell News newspaper which existed for 57 years, and was located at 319 Center Street, in Boswell. Interestingly, Elizabeth 'Bebe' Orlandi lived upstairs for over twenty years. She will be 98 years young on the 10th of June this year. She moved there after her husband, Raymond died in 1978. Inside this issue you will also find a very interesting article by Homer Warnick...and you'll find out why he was nick-named 'Skillets'! He really was amazing at his recollection of the way things were, back in the day, in Boswell. Also, a new effort, called 'Helping Hands Food Pantry' has been launched. If you feel the call, please volunteer and give some assistance to all the good people working there now. That's all for now...oh by the way, if you know the names that are missing on the photo on the back cover, give Phyllis Ickes at 629-9161.
Big Boo-Boo!!
Our Mopey Editor made a boo-boo on page one of the current Newsletter...the correct address for the Boswell News office is 419 Center Street, not 319.
War Memorial in Boswell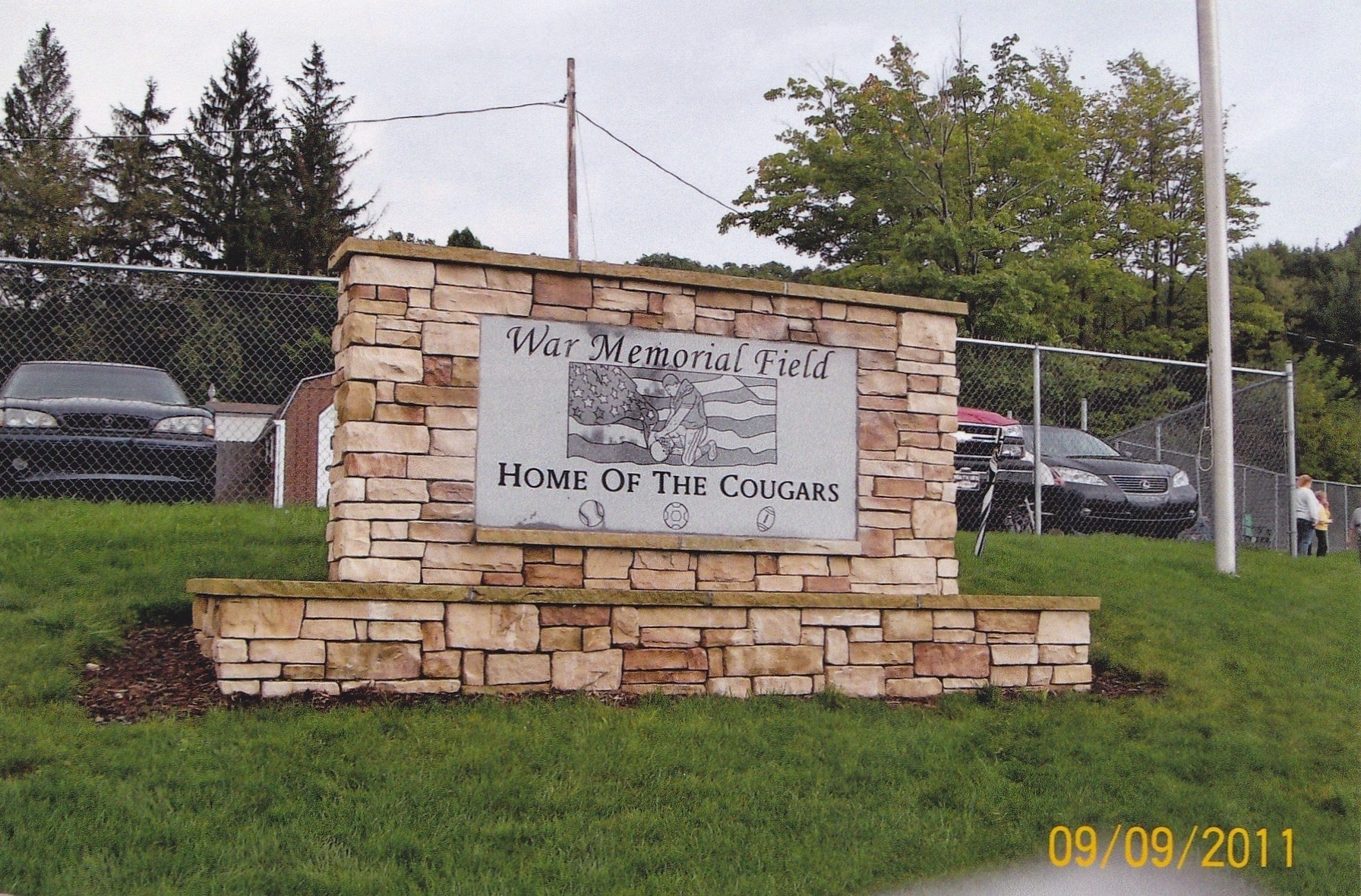 The War Memorial Monument picture was taken by Phyllis Ickes!!
A Commemorative Booklet For Sale
A new book dedicated to the Boswell Volunteer Fire Department's 100th Anniversary is being published. Written by Michael Sopich and Edmund Jacobs, the book it titled "A Moment in Time", and is being used as a fund raiser for the Fire Company. It contains information about the stories and events of Boswell, totaling 150 pages, with over 200 photos and old advertisements. There is a fold out map showing streets and business locations from 1901, when the town was in it's infancy, to the present day.
Topics include the beginning of Boswell, coal mine disasters, the Fire Company, fires in the area, churches, schools, businesses, etc.
The book is being sold for $20, plus shipping and handling. It may also be picked up at Rose's Country Market, Boswell Prescription Center, Penny's Barbershop, Celeste Walker's Beauty Shop and Ickes Insurance Agency, Inc.
You can order by mail by contacting Penny Sopich, 909 Hower Avenue, Boswell, PA 15531. Call her for total cost before shipment. Her phone number is (814)629-6972.
This is a must have book, if you enjoy history, and especially, the history of Boswell!!!!
Join Now!!!
The Boswell Area Historical Society is asking for your support. If you enjoy reading the stories here about our town and its environs, it's time to step up to the plate and join us. Contact Dorothy Ferre at:
Boswell Area Historical Society
Dorothy Ferre
700 Center Street
Boswell, PA 15531
The cost of membership is very reasonable...following are the individual categories of membership.
Individual $10 , Family $15 , Lifetime $150, Family Lifetime $300
Isaac T. Kaufman House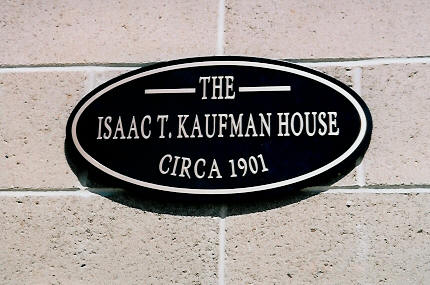 Memorial plaque on the front of the Kaufman house. (Photo Courtesy of Phyllis Ickes)
And It Came To Pass...
With shovels in hand and smiles in abundance to mark the gaiety of the occasion, members of BAHS gathered to bury the proof of the town's existence on Saturday am. A long list of items buried, include brochures, newspapers, a Legion Memorial Day program, high school yearbooks, a map of the town, memorabilia from the Centennial celebrations, and the list goes on. Children from North Star High school wrote letters commemorating the event...all to be opened in the year 2054!! The sesquicentennial year will be something to behold by the younger generation. A granite marker was placed!!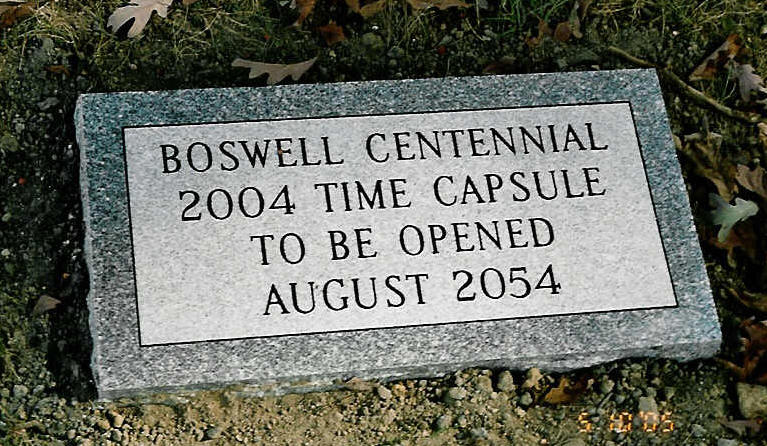 The photo has come forth, courtesy of Richard Hardesty, webmaster.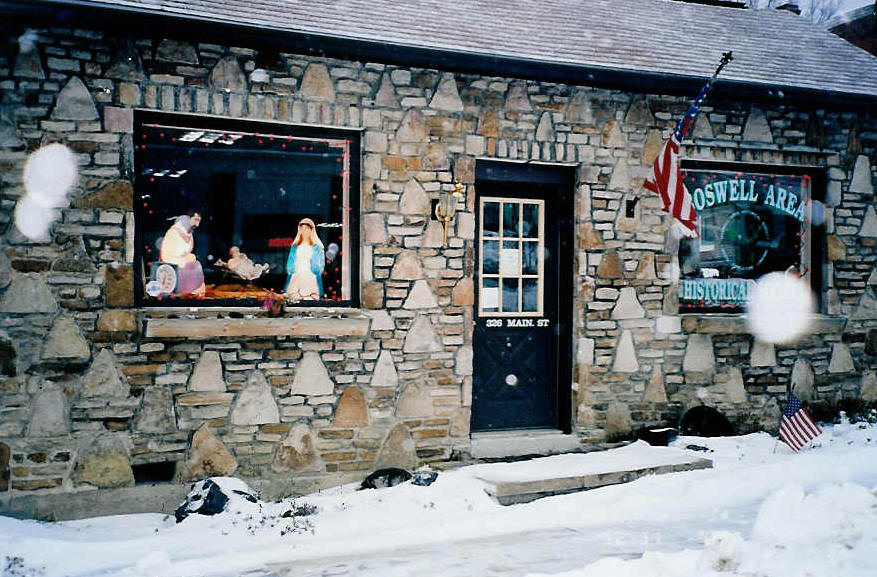 Boswell Area Historical Center in the Winter
Located at 326 Main Street. Visitors welcome by appointment only. Call Dorothy Ferre at (814) 629-5945
to make necessary arrangements.(Photo courtesy of Phyllis Ickes)