The History of Boswell, Pennsylvania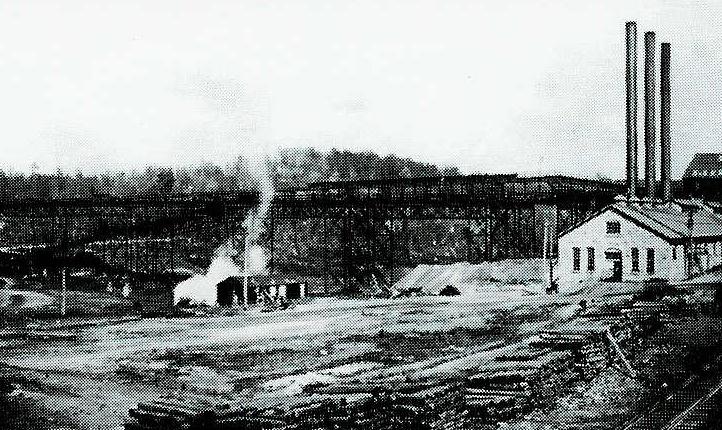 Merchants Coal Company Power Plant and tipple
Thomas Taylor Boswell of Baltimore, Maryland came to Boswell in 1900 and bought the farms of Lucy Stufft, Oliver Peterson, and Freeman Gonder. He formed the Merchants Coal Company of Baltimore, hence, the formation of Boswell. The town was incorporated on February 22, 1904. At it's peak, the mine employed over 900 miners, and produced over 3,000 tons of coal per day. It eventually was re-named as the United Coal Company; in 1918, it became the Davis Coal Company, and closed for business on March 29, 1939. The mine was officially known as Orenda Mine #1. At it's peak, the mine employed over 900 miners, and produced over 3,000 tons of coal per day.
Many of Boswell's streets are named after coal company officials, for example, Hower Avenue, for Charles E. Hower, a coal company engineer; Morris Avenue, named for W.H. Morris, the General Superintendent of the mine; Atkinson Way, for W.G. Atkinson, the Vice President of Merchants Coal Company.
As the U.S. rivers flow West and then South to the Gulf of Mexico and finally into the Atlantic Ocean, Boswell's streets are named in that order; From Main Street to the West, there is Allegheny Street (river); Ohio Street (river); to Mississippi Street (river); (Gulf of) Mexico Street; and finally Atlantic Street (ocean). As the rivers flow Eastward, the streets are named in that order. East from Main Street (in 1900) Main street was known as Kiskiminetas (river); Center Street ( in 1902, called Conemaugh) (river); Stonycreek Street (river); Juniata Street (river); Susquehanna Street (river) and Quemahoning Street (dam/lake). These rivers are in the Eastern part of Pennsylvania.
The town of Boswell was designated as a National Historic District in 1994. Most of the original brick homes are still standing on Juniata Street, with much of their original integrity. A unique feature of our town was the construction planning. A frame house was built, then a stone or brick house beside it, with another frame house beside that. This was to prevent the destruction of a row of houses in the event that one caught on fire. One historian, John Finnegan, said that the white sand used to make the red brick houses came from a sand quarry, located near the old Umberger Farm on the Johnstown-Somerset Pike...this white sand then was mixed with white cement. The strange thing about this portion of the history is, that one day, the workers hit water. Thinking nothing of it, they closed down normally at the end of the day. When they came back to work the next morning, the sand pit was completely flooded and several heavy machines were lost, or became utterly useless. Another engineering layout, was the wide alleys and the wide streets that form the one mile square of the town of Boswell. Yet another unique feature of Boswell buildings, is that many of them have corner entrances. The town of Somerset has a few of this type corner entrance buildings too.
Population of the Jenner Township area today, is approximately 3,000 people. Our historic area is located in the Southwestern part of Pennsylvania with two major highways passing through. The Lincoln Highway or US Route 30, is and East-West highway, while Route 219 is the main North-South highway. The Pennsylvania Turnpike is eleven miles South of our area.
Our Historical Society was formed in 1989, with thirteen charter members and a board of directors. We have subsequently grown to a society of over 500 members, and send out over 400 newsletters to almost all the 48 States and internationally. The newsletter is written, and distributed four times a year. The first newsletter was published in 1991.
You've seen the link to Fort Duart, and are probably wondering what this castle in Scotland has to do with Somerset County, in Pennsylvania. The named Duart comes from a castle built in the 1300's by the Maclean clan. Fort Duart is located on top of the Allegheny Mountain on the original military Forbes Road and was named Castle Duart by Sir Allen Mclean in 1758. He so named it, because it reminded him of his homeland castle.
Pioneer Families
One of the oldest families in the Boswell community, is that of Lawrence Cazimier Pachniak. He arrived from Poland (called Austria at the time) in 1902. He originally settled in Quecreek, and thence to Boswell, where he worked in the Orenda coal mines. He married another countryman, woman, Aniela Maziarz in 1906 at the church in Cambria City, which is on the south side of Johnstown. They settled in and their union brought forth son Daniel Pachniak in 1908, a daughter, Wanda in 1912, and daughter Elizabeth, born 1914. Daniel fought in World War II, Wanda married a boy named Heaney and moved to Long Island, and Elizabeth married Raymond Orlandi, a local butcher that worked at Hunters grocery store. Elizabeth worked out on Long Island at a time before her marriage, and when she married, she worked as a seamstress at the Dorfman & Hoffman plant in Boswell. She is the sole remaining Pachniak, and currently resides in Patriot Manor in Somerset...at the time of this writing, she is 94 1/2 years old!! Alive and well, and enjoying life!! her children, Dolores and her husband, Dale Williams live in Long Island, NY, another daughter, Rita and her husband, Richard Hardesty reside in Tampa, Florida, son Richard and his wife, the former Alice Felgar and family live in Etters, PA, and son Lawrence, with his wife, the former Jackie Pugh live in Stoystown. Richard Hardesty has been the webmaster for Boswell since March of 2004. Elizabeth has eight grandchildren, and eleven greatgrandchildren. She is a true pioneer of Boswell.
.